Boy Bastiaens
denim demon brand identity
Denim Demon is the collaborative work of three brothers Oskar, Anton, Patric, and their father Kjellake. The Olsson family roots are deeply anchored in the northern part of Sweden that is called Jämtland. A historical area where the Sami people live. The Nordic countries' only official indigenous people who live in semi-nomadic communities. Speak their own language and traditionally work with reindeer herding and artisan crafts in a history dating back over 2000 years.

The Project Ware-Out (2009) is more or less a definition of what he brand is all about, showing extreme attention to detail & authenticity hardly ever seen. It all started out with seven boxfresh pairs of jeans given out to seven Sami people, among them reindeer herders, doudji craftsmen and an archeologist. The end result of this project is breathtaking. Every single wear, tear & stain have been carefully replicated by hand to precisely mimic the original worn in pairs. All made in Japan & limited to 60 pairs of each wash.

In the summer of 2011 the Olsson family approached Boy Bastiaens for rebranding their denim label.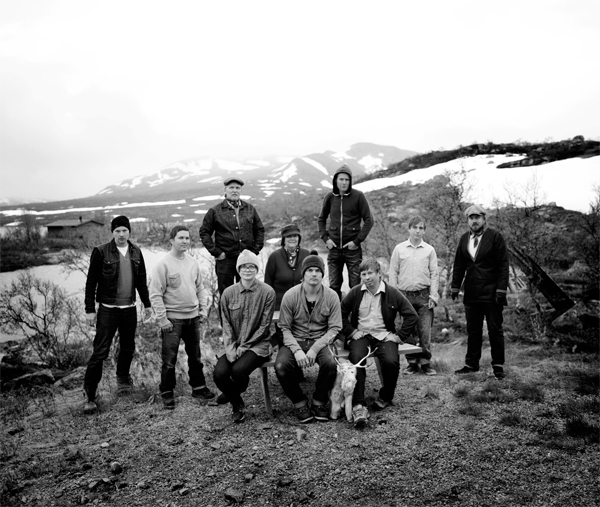 Significance to a new logo was given by writing the brandname with one big single 'D' instead of two regular ones. Blind embossed into the leatherpach together with a sunrise symbol, Sami pattern and text "mijjen aerpeste iedtjem åådtjeme" (with inspiration from our legacy) that all reflect a strong longing for nature.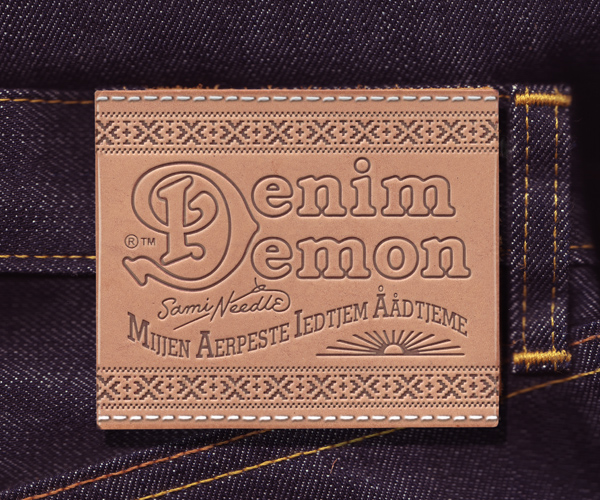 The label represents the unique blend of authentic utility clothing and traditional Sami wear. Defined through ornate antique lettering...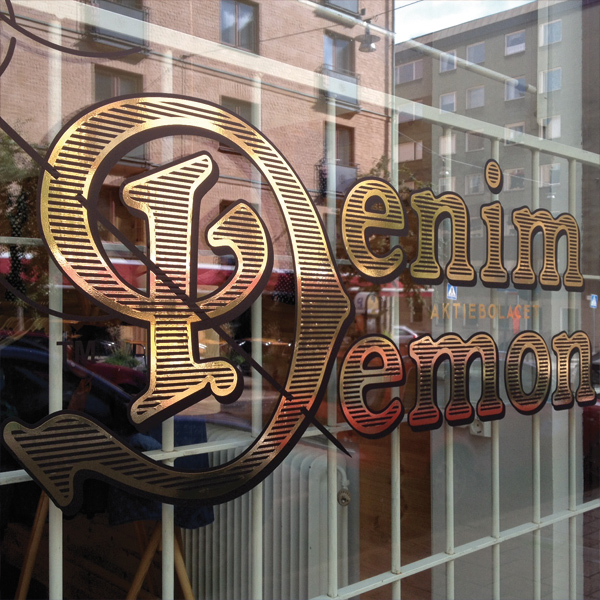 …and Jämtland scenery in a series of monochrome printed paper backpocket folders.Coining the term Sami Needle for performance and dignity.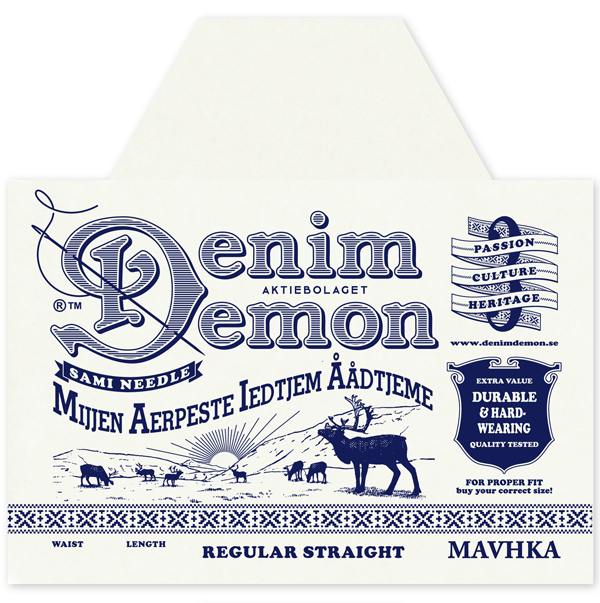 The Denim Demon's trademark character advertises the 'reindeer people' jeans brand in a true iconic way. Built up with imagination and wit in a salute to the illustrious predecessors of yesteryear. (photo: Kim Zwarts)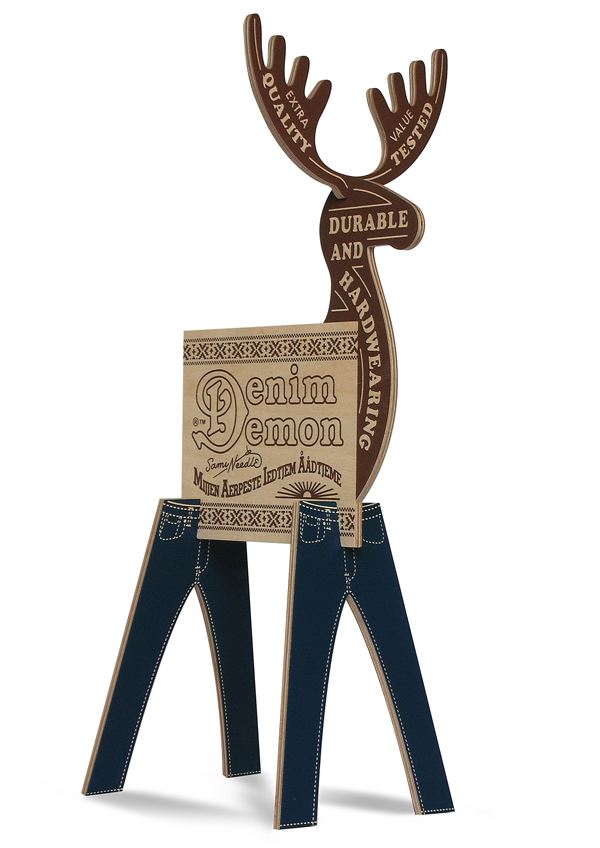 Covered in a brown cardboard envelop with printed assembling instructions. The 20-inch brand merchandising display comes as a 4 piece plywood slot-together figure. Ready for shipment from Sweden to retailers worldwide.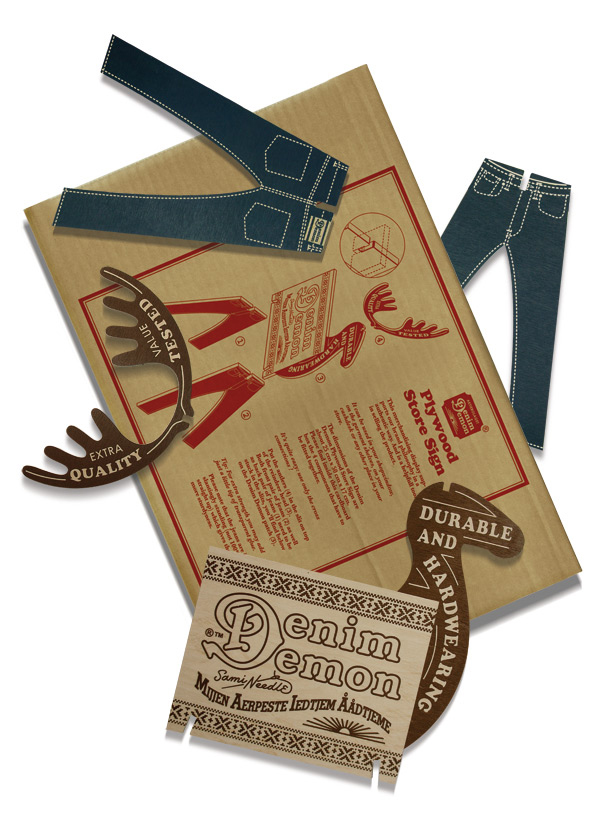 Extremely delighted with the instore sign and looking forward to its official presentation, the Olssons documented their trip from Sweden to the 12th edition of the Bread & Butter, Berlin tradeshow as a wonderful journey.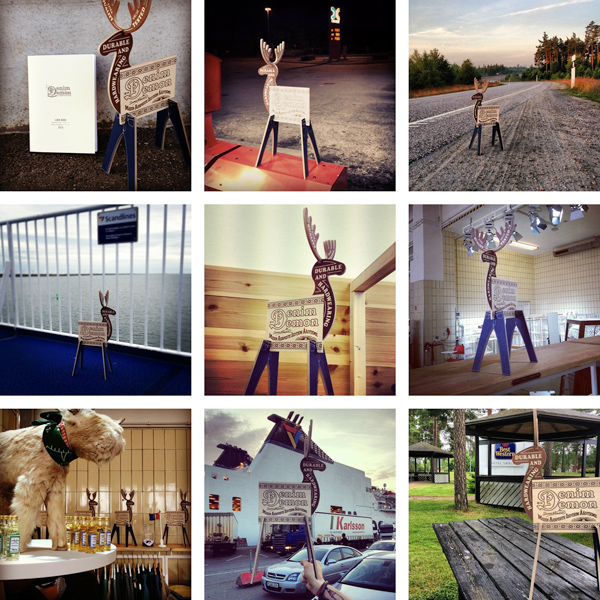 Clothing companies have been creating names to distinguish themselves since branding began. In the line of this tradition apparel labels can be considered as the earliest garment brand messengers.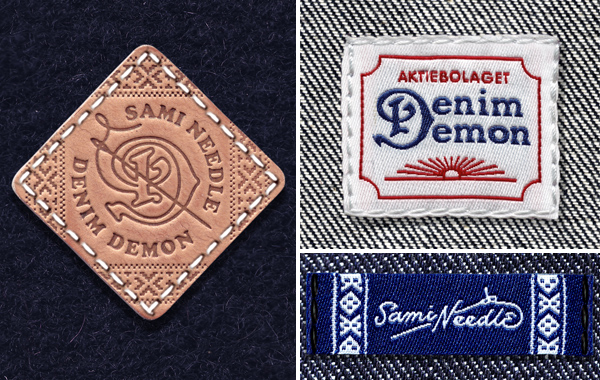 Bastiaens' daughter Yomi designed a decorative border which ended up as the 'hidden arcuate stitching' on the jeans' backpockets. Stitched on a piece of cloth inside the pocket and getting slightly visible through 'wearing in'.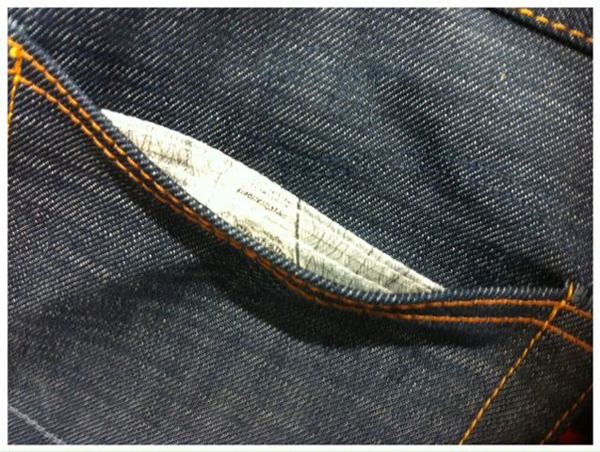 Surprisingly, the clock came full circle when the Sami pattern that is used on the leatherpatch and pocket folders found its way to a woolen pullover. Knitted in the traditional colours: red, green and blue. Being the same colors as used in the felt backpocket rizer which you can find on all Denim Demon jeans. Which refer in their turn to the authentic south Sami flag.