Boy Bastiaens
grivec bros. identity
"Repairing gave us an inside view into the jeans construction details. While more than 25 years jeans trade learned us everything about fit and fabrics. So it was a logical next step for us to start thinking about designing the jeans we've always wanted ourselves but were not able to find". - Marcel & Roger Grivec - / Chevremont ."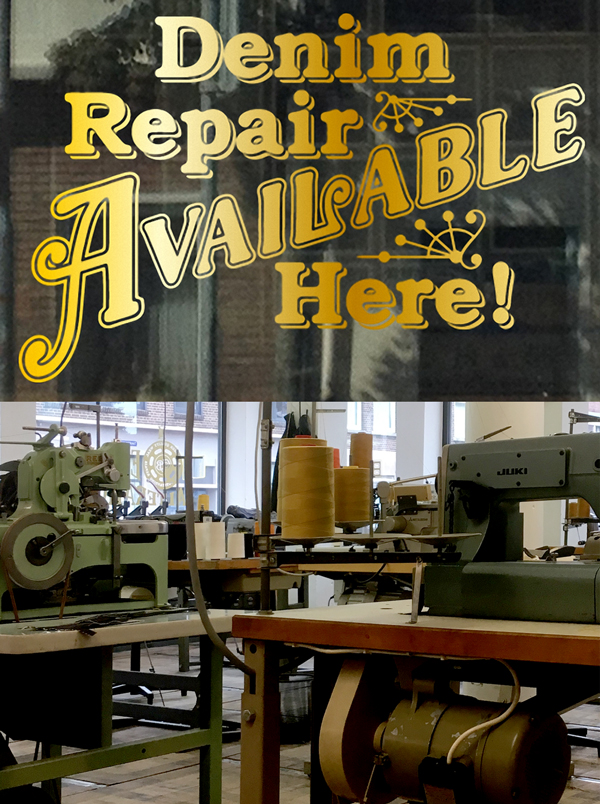 Research proved that the first jeans advertising in the Netherlands was published in the daily newspaper 'Het Limburgs Dagblad' on February 1st in 1952. The anonymous 'cowboy jeans' were probably advertised as heavy duty workwear with the many miners in mind that used to live in South Limburg, the Dutch coal mining region based around Kerkrade which had become the largest mining town in Europe at that time.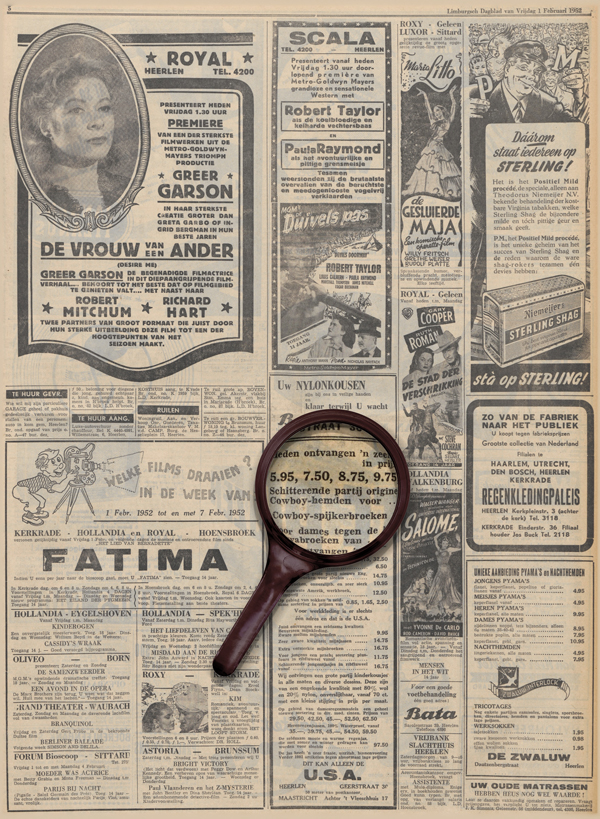 "Which gave our project a new context from historical perspective and made us instantly wonder what these kind of 'cowboy' workwear denims might have looked like." says Boy Bastiaens who is responsible for the graphic identity of the Grivec Bros.brand. "As a matter of fact it gave us the opportunity to add authentic Limburgian details to the brand that perfectly connect to the classic American denim tradition."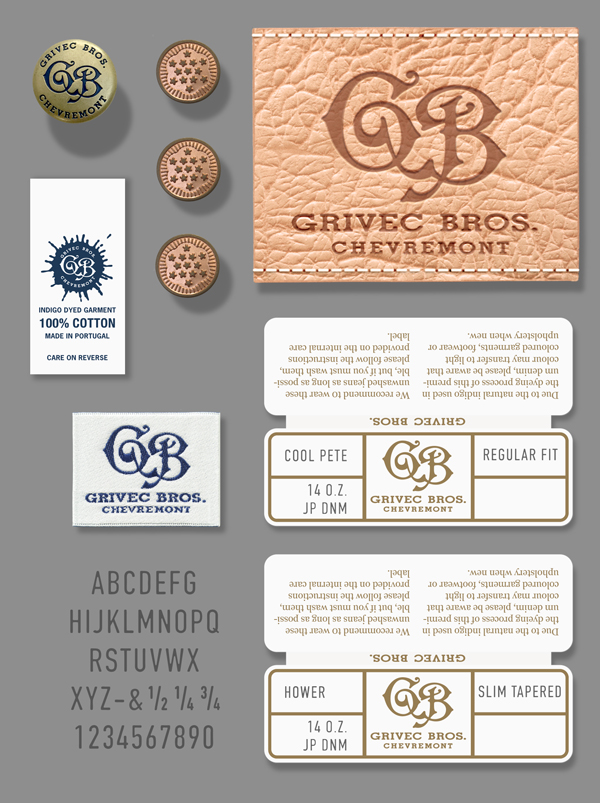 With close attention to choice of materials the Grivec Bros. logo is applied to the trims and labels. In a tribute to the lesser known jeans classics you'll find also "13 star" buttons, which have their origin in US naval uniforms but were used too in the 1940's and 1950's in US jeans because of short supply of materials. The style names refer to the region's mining past: 'Cool Pete' is derived from 'koelpiet' (kolenpiet) which is Limburgian slang for 'miner'. While 'Hower' is an 'Americanized' spelling of the Dutch name 'houwer' and also means 'miner'.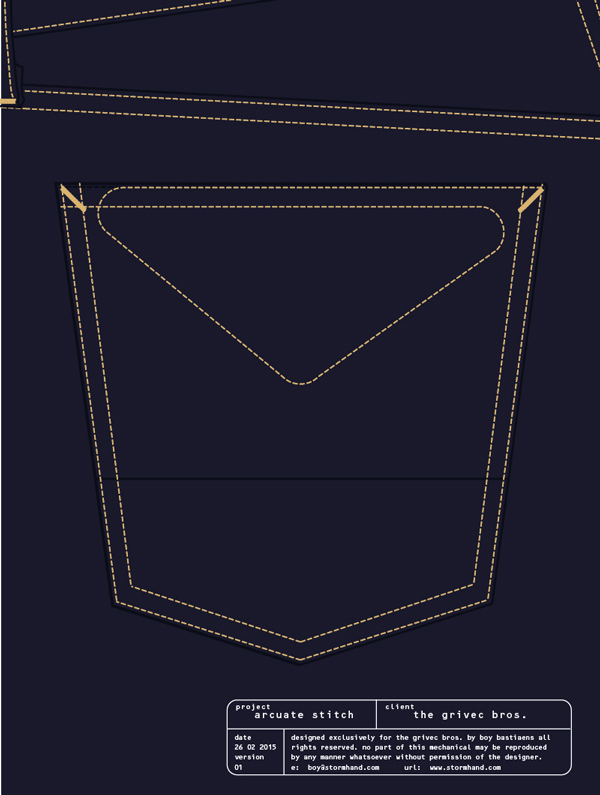 The pattern of stitching on the back pockets of a pair of jeans, the arcuate, is the product's most significant branding element. Its purpose is to proclaim a difference at a very crowded marketplace. With so many jeans brands out there it is not easy to come up with an original design that is appealing. At first glance, the arcuate conceived and designed for the Grivec Bros. looks very simple. On close inspection, you can see that the upper part of the "single line triangle" is also the double seam of the back pocket mouth.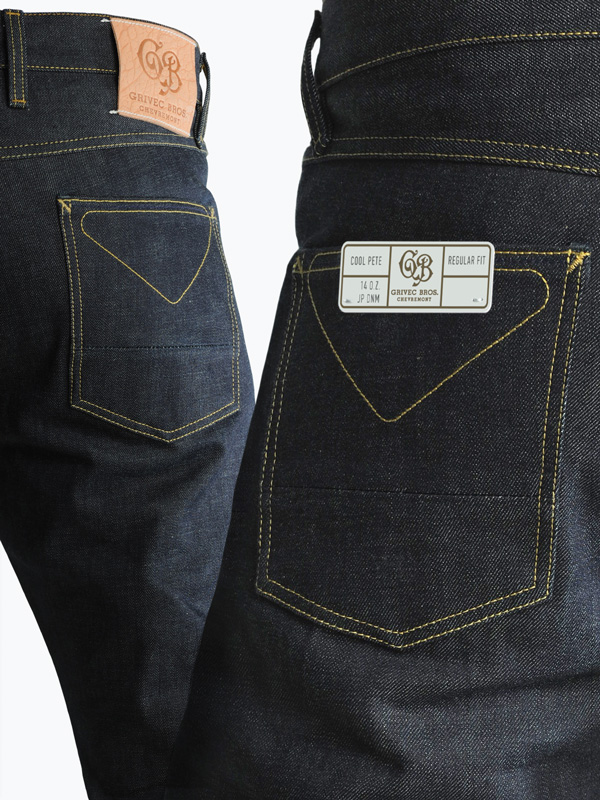 The Grivec Bros. jeans reflect the simple strength and quiet dignity of a dry denim in a classic cut with authentic details that sets them apart from other brands. Timeless and long lasting, yet echoing the voice of an era when denim work clothes served as the union uniform of the working class: the miner, the western horseman, the farmer and the railroad man amongst others. A time period in history which gave denim, for the first time, an identity.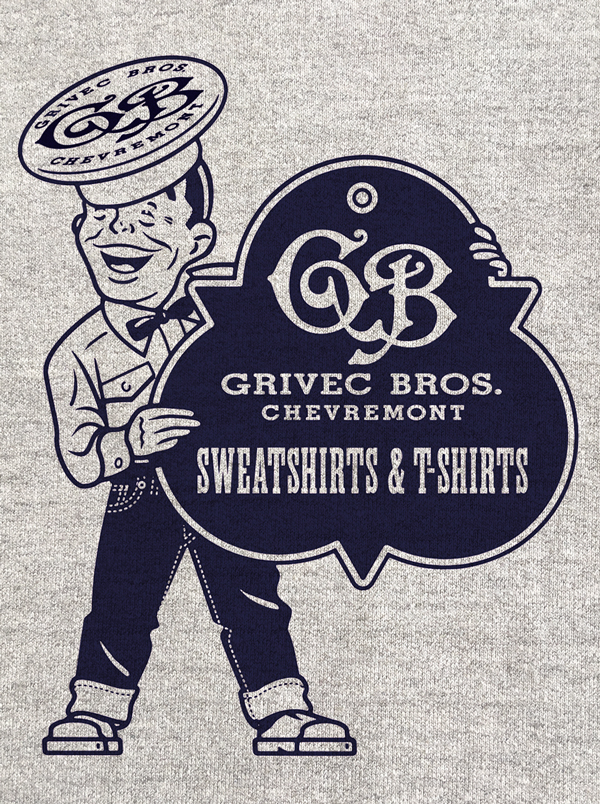 The Grivec Bros. mascot promotes the matching clothing lines which are produced next to their jeans range. Such as shirts, t-shirts, sweatshirts, jumpers, cardigans, jackets and coats. As a classic graphic advertising medium it is also a tribute to illustrious predecessors like Bibendum (the Michelin Man), Johnny Walker, Mr. Peanut, Cracker Jack and Coca Cola's Sprite Boy just to name a few.